Kiev threatens a man-made catastrophe due to the emergency reservoir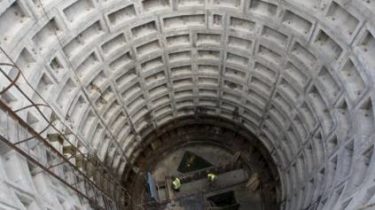 Kiev is on the verge of a man-made disaster, as the capital's main collector for more than 10 years is bursting at the seams, and residents have to breathe the smelly air and poisonous gases, according to a story "Breakfast with 1+1".
Particularly acute this problem is in the summer when the intense heat. The smell is so awful that people who live nearby, had to flee from their homes and wait out the stench from relatives and friends.
Videoke needs to fix Kiev's main header
Snidanok 1+1
Today, 08:42
Facebook

1

VKontakte

Google+

Twitter
The manifold is located in the historical center of Kiev – Podol, near his destroyed parts, from which it spreads a smell the house stands still, the inhabitants of which were already tired to pester the district administration. However, officials from a zero response and most importantly – action.
"Windows can not open. We have only the beginning of the summer as next month, when it will be +35 in the street – this is just unbearable. Moreover, we don't all have air conditioning, to somehow be able to hide from the smell" – from Kiev says Julia.
Journalists managed to find those responsible for the condition of the manifold is turned "Kyivvodocanal", where he explained that the collector stinks, because he's already more than ten years, is in critical condition and his life long ago exhausted.
"The collector is filled to a third of maximum. All the rest is poisonous gases that corrode concrete, which constructed the reservoir, and accordingly failures, sewer collapses just inside," – said the head of the press service of "Kyivvodocanal" Anna Slobodyanyuk.
See also:
Lions are trapped
As it turned out, 15 years ago to replace the old one started to make the manifold parallel to, but work was constantly suspended due to lack of funds, and construction was delayed for years. Now in the "Kyivvodocanal" assured that soon the new header will be put into operation.
"There is a clear timetable, it runs, all work is respected, works contractor "Kievmetrostroy." And in September, the duplicate thread of this manifold is ready to accept runoff. That is, the fall will disable this alarm collector and the run-offs will go on new", – said the representative of "Kyivvodocanal."
At the same time, lawyers are advised not to endure the stench, and to apply to authorities that monitor such situations.
"Regardless of the public institution or public reservoir, or the local Council he belongs to, one is still not forced by law to stand and breathe in this air, this smell polluted air. You need to contact the environmental inspection and sanitary inspection. These agencies, regardless of the submission source of the smell, will be held accountable," said Lawrence Tsaruk and noted that faster consider collective complaints.
Comments
comments