In Britain, criticized the court's failure to recover from Nasirov bail of 100 million hryvnia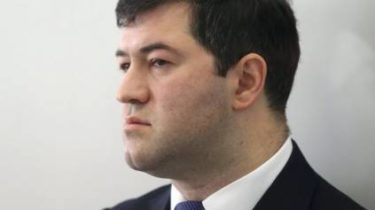 In the UK, dissatisfied with the refusal of the Kyiv court to recover the budget pledge of the ousted President of the SFS of the Roman Nasirov.
The statement was published by the British Embassy in Ukraine.
"We are deeply concerned about the recent decision of Solomenskiy district court of Kyiv, where the evidence provided by the UK as part of the case against Roman Nasirov was declared inadmissible and rejected. At this stage, the responsible authorities in the UK will examine all facts to determine whether there was criminal wrongdoing on the part of the British citizen, who can stand trial in the United Kingdom", – the document says.
As noted in the Embassy, business Nasirov stressed "the urgent need for independent and transparent judicial system and the need for early establishment of a specialized anti-corruption court, which will include thoroughly tested judges who will properly be able to consider corruption cases against high-ranking officials".
"The UK supports reform in Ukraine. That is why on 6 July in London will host a conference on reforms in Ukraine. The reform of the Ukrainian judicial system is an important component of the program of the government of Ukraine", – said in a diplomatic office.
In particular, the Embassy said that the conference would provide a further opportunity for the Ukrainian government to demonstrate its commitment to real progress in reforming the judiciary and fighting corruption.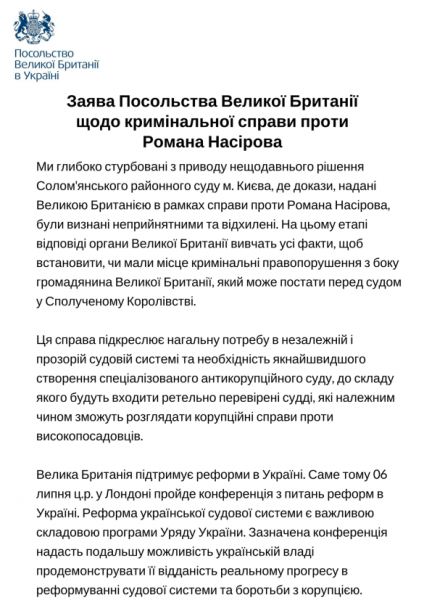 twitter.com/UK in Ukraine
We will remind, Nasirov is suspected of abuse of office and embezzlement of public funds in the amount of over UAH 2 bn. The consequence considers that Nasirov, acting in the interests of the Deputy Onishchenko, the "gas business" were arbitrarily granted a number of enterprises the possibility of tax liabilities in installments.
The Solomensky district court of Kiev made the decision to extend the measure Novel Nasirova for 2 months. Protection Nasirov, asked to soften the constraints and to give him permission to move freely and travel abroad.
Dismissed the head of GFS released on bail in the amount of UAH 100 million. Money for him was made by his wife Catherine Klimovska. Answering the question of where the money Nasirov said that, they say, would be better if he sat in the detention facility and argued his guilt.
In turn, 8 Jun Solomensky regional court of Kiev refused to pay to the budget a pledge of the ousted President of the SFS of the Roman Nasirov.
Comments
comments