Mariupol celebrates the third anniversary of liberation from the Pro-Russian terrorists of "DNR"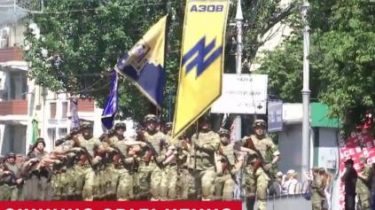 Mariupol celebrates the third anniversary of the liberation of the city from terrorists. Lightning special operation battalion "Azov" noted parade and concert, says the story TSN.19:30.
The center of the city were the military, which three years ago was restored to the Ukrainian government the separatists seized the city. To thank the liberators came thousands of people, who remember with horror the occupation period. "People were afraid to go. Here the stores and robbed banks. It was very scary," recognized Mariupol.
Videomanual marks the third anniversary of the liberation of the city from terrorists
TSN. 19:30
Yesterday, 19:54
Facebook

1

VKontakte

Google+

2

Twitter

1
To liberate the city, despite the speed of the operation, was not easy. Call "galago", and nowadays the Deputy Minister of internal Affairs, Vadim Troyan, has worked in the area between Greek, Italian and St. George streets – there, on the outskirts of the two headquarters of the separatists in vocational schools and the Bank was particularly hot. "The building is fully renovated, plastered. And it was all pokazano, fire watered, as he could. The barricades were already occupied – we're on the barricade was," he recalls.
Doubt that the city will be released, it was not the then commander of the "Azov" Andrey Biletsky. "When I left at 4:00 in the morning – no doubt what the outcome of this day was not. Or would no one came back, or would the city was Ukrainian," he says. Now "Azov" – no longer a battalion, a regiment, which the guys have modern equipment, weapons, and armored vehicles. In 2014, the most difficult part of the operation took only 120 volunteers who support the technique could only dream of – Mariupol they released practically the same armored "KAMAZ" with a heavy machine gun on Board.
Comments
comments