Because of the "equality March" will cover the center of Kiev and has already begun a virtual provocation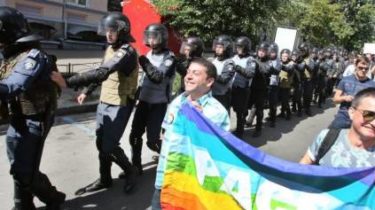 In Kyiv Sunday, June 18, will cover the center and significantly strengthen security measures because of the "equality March". In particular, for the rights of the LGBT community.
This is stated in the plot of TSN.19:30.
Will be partially or completely impassable streets bordering the Park of Shevchenko Vladimir, Lev Tolstoy, Velyka Vasylkivska street and Taras Shevchenko Boulevard. Will not run even by public transport.
In the case of large-scale threats can close the entrance and exit of metro station "Lva Tolstogo" and "Palats Sportu". In the area of the marsh will act bandwidth monitoring, will check the documents and, if necessary, personal belongings. Also patrolling the center of Kiev will carry out reinforced riot police. This year participation in the parade plan to accept up to five thousand people. In the past year, numerous attempts to provoke clashes law enforcement officers stopped.
Militiamen on the streets of Kiev will come to 5 thousand people. About it in interview "Interfax-Ukraine" said the head of the Metropolitan police Andrey Krishchenko.
"The application indicates participation in the procession up to 5 thousand people. Given that last year was declared one thousand, and it's two, I think, this time five thousand will be claimed. Perhaps even more is possible," said Krishchenko.
Meanwhile, launched a virtual provocation – has hacked the website of the Ukrainian LGBT movement, placed there by threats to participants of the "March of equality", writes "Ukrainian truth".
"The holding in Ukraine of various LGBT forums, "March of equality", "Kyivprylad" and other activities of homosexuals will be for you a tragic mistake. No imaginary support of the police will not help you. For us, it is difficulty to find each of you. All the necessary information about your organizers and leaders already have", – stated in the threats of hackers.
Now this website not working.
We will remind, recently in Warsaw was the largest in the history of Poland March for LGBT rights.
Comments
comments