Police arrested one of the attackers on the March that Squirting them in the eye spray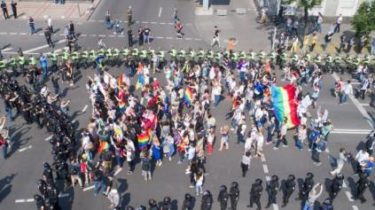 Kyiv police have detained one of the attackers on the participants of the "equality March" that took place in the capital today, June 18, morning.
This is reported on the website of the state of Ukraine in Kiev.
Three hours after the event (around 15:00) a group of unknown persons ran up to the two men who participated in the event. One of them, the attackers splashed into the eye pepper spray, and other inflicted injuries. It happened on Kontraktova square.
See also:
Police released all those detained during the "equality March"
"One of the attackers, the police detained and delivered in Podolsk police Department. Communicate with him investigators. The detainee – a resident of Kiev, born in 1995. He seized Balaclava, knife, pepper spray and a mouth guard," – said in a statement to the police.
The victim 1980 and 1984 years of birth are called "ambulance", they were sent to the hospital.
"The event has been duly registered, the question about opening of criminal proceedings. Associates looking for the assailant," added the police.
Earlier it was reported that one of the participants of the "March of equality" was attacked on Kontraktova square in the subway. He was a monitor from the "Ozone". Another party was attacked near "Petrovka". Also at the end of the March there were reports that some marchers LGBT opponents tried to disrupt the symbolic bracelets.
Comments
comments