Police released all those detained during the "equality March"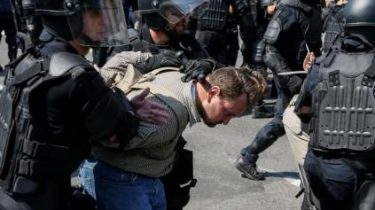 Law enforcement authorities released five of the six who were detained during the "equality March" in Kiev, June 18.
In particular, they took part in a protest against the March of LGBT people and those who support them, transfers "112 Ukraine".
See also:
"This should be a show for everyone!": what you post on the occasion of the March for LGBT rights
"Of the six detainees were released five, those who took part in protests against the "equality March" in the capital. Their actions are qualified as hooliganism. As told the representative of the group, the guys issue a fine of 51 hryvnias and even it is expected that the lawyers will appeal this decision because the penalty nobody wants to pay," – said the journalist of TV channel.
Later it was reported that the police released the last detainee in the "March of equality".
"Let go of the sixth detainee. The support group also left. The detainee is a member of the" Right sector ". According to him, only in the Department he was told that he was detained for throwing at police unknown subjects. The police drew up reports, none of the detainees had to sign it . The court will elect a measure of restraint in a few days ", – the journalist told.
We will remind, today, Sunday, June 18, in Kiev was held the annual procession of members of the LGBT community and all who support them, called "March of equality".
According to law enforcement, participation in the procession was attended 2,500 people.
Comments
comments