Poroshenko Yatsenyuk awarded the order of Yaroslav the Wise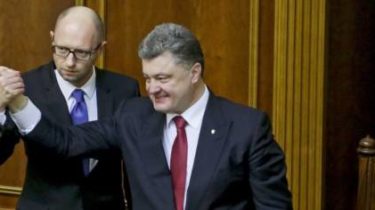 The President of Ukraine Petro Poroshenko said the former Prime Minister, Arseniy Yatsenyuk, the order of Prince Yaroslav the Wise IV degree.
The corresponding decree of June 19, announced the press service of the head of state.
In addition, Poroshenko has decided to award the order "For merits" I degrees of the journalist, UNIAN Sergei Voropayev (posthumously), Director of the public organization "Institute of world policy Alyona Getmanchuk, Deputy head of the presidential Administration Konstantin Yeliseyev, Minister of foreign Affairs Pavel Klimkin, the Ambassador extraordinary and Plenipotentiary of Ukraine Andriy Olefirov, head of the office of the UNIAN in the EU Irina Somer, Chairman of the Board of the International Fund "Vozrozhdenie", scientific Director of the Institute for Euro-Atlantic cooperation Oleksandr Sushko and Executive Director of the NGO "Europe without barriers" Irina Sushko.
As noted, the medals they were awarded for significant personal contribution to the implementation of European integration aspirations of Ukraine, the introduction of the EU visa-free regime, strengthening international authority of Ukraine, many years of fruitful work and professionalism.
We will remind, earlier the journalist and cameramen of TSN received from Poroshenko's order "For merits" III degree. The President noted that journalism in Ukraine has really become the fourth power.
Comments
comments