The owners of the burned buildings on Khreshchatyk blamed the fire weather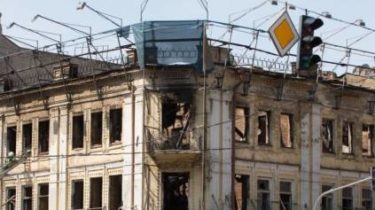 The company "AB Investment and development", which owns the burned on June 20 in a historic building on the main Boulevard of Kiev, described the cause of the fire dry weather.
The owners of the Central store in an insulting manner wrote that the alleged victims of lying and "morbid" individuals. Activists who stated that it would deliberate arson of the premises of the company called "pseudo".
"Statement on the arson of the building, which houses functioning institutions for trade, which is located in the city center, which is the object of everyone's attention, seemingly for the purpose of its demolition and construction of a new building is peradenya "Rubicon" on the shore of idiocy. Even for the implementation of profitable commercial project, only pseudo can set fire to the building in the centre of the capital in broad daylight, in the presence of thousands of people. And only people with obvious signs of mental retardation can distribute such a version in social networks", – stated in the message.
See also:
Police are investigating a fire on Khreshchatyk as arson
The company noted that the arson attracted more attention to the object and made it impossible to issue permits without a thorough inspection. Therefore, arson is called here is absurd.
Accused of the fire the owners of a historic building dry weather.
"In fact, the cause of the fire was the weather, which on this day was marked by a special fire hazard. Dry, hot weather, with gusts of dry wind most likely contributed to the spread of fire. At that time, as the reason it could be getting the slightest spark", – stated in the text.
Also the company noted that burned the facility allegedly due to "circumstances".
Despite this, the building owners promise to restore the "Central grocery" in its historical form.
"And though the fire and distanced the reconstruction of the building and complicate the procedure of its approval, the owner will make every effort to prove to the primitive custom "activism". Now it's a matter of honor" – summed up in the company.
We will remind, large-scale fire occurred on Khreshchatyk took place on 20 June. The building, which broke out, is located on the corner of Khreshchatyk and Bohdan Khmelnytsky, opposite the Central Department store. It is a public catering and shops, and beside the Pechersk court. Rescuers extinguished the fire late in the evening. The fire burned construction materials, partitions and ceilings between the second and third floors and roof of the building. In addition, there is the threat of partial destruction of the building. While extinguishing a fire the dead and injured were not.
Comments
comments