US sanctions against Russia will be continued – Poroshenko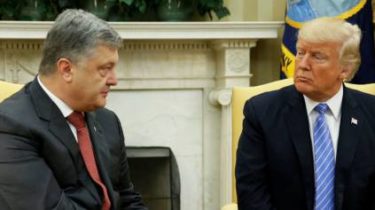 US sanctions against Russia will continue.
This was stated by President of Ukraine Petro Poroshenko while interacting with media after meetings at the White house with the leadership of the United States.
On specifying question, whether strongly voiced such an assurance from the U.S. President Donald trump, Poroshenko replied in the affirmative.
"I think it's obvious. Today, States are taking additional sanctions almost every day. I see the position of the United States of America as a solid, reliable and strategic partner of Ukraine ", – said Petro Poroshenko.
See also:
Poroshenko after a visit to the U.S. is waiting in Brussels
We will remind that the President of Ukraine Petro Poroshenko commented on his meeting with the US leadership in the White house while chatting with the media.
The Ukrainian head of state said that the agenda was rich, he was completely satisfied with the results of the negotiations.
He is thankful to US President Donald Trump and Vice-President of the United States Mike Pence for the support of the Ukrainian state.
Comments
comments