In Kiev, near the Golden gate was stabbed by the head of the Union of migrants in Ukraine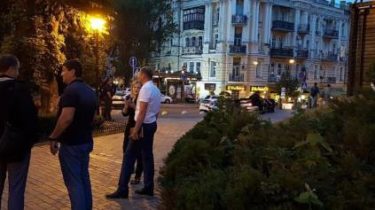 Killed near Museum "Golden gate" in Kiev was the head of the Union migrants Sergey Oleynik. The man also half a year spent in the ATO, the correspondent of TSN.
The conflict arose because of the son of the deceased, which in this place is played on an instrument like a street musician. One of the occupants of the house in Yaroslav Val, which is located next to, began to find fault with the guy, demanding to stop playing. The father rebuked his son, after which there was a conflict with the stabbing.
See also:
Murderers okultista from Chernigov faces life in prison
The attacker was detained. He fled the scene of the crime to his door. The police arrested him on the roof.
We will remind that earlier in the Dnipro district of the capital a group of young people robbed 70-year-old grandpa's cell phone and money, threatening to stab.
Law enforcement authorities received a message about the attack, at the scene immediately went investigative team and the squad of patrol police.
The correspondent TSN Ivan Grebenyuk
Comments
comments