Ulcer and your grandfather's will: MPs told, why not often resorted to fasting in politics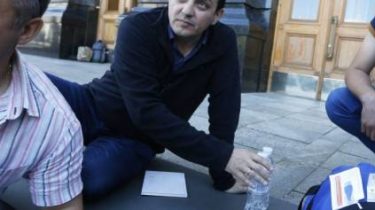 MPs are reluctant to join colleagues from the faction "Samopomich", which went on hunger strike from-for problems with the Lviv garbage. Politicians are generally not too inclined to such means of political struggle, though, and admit that it's quite civilized, according to a story TSN.19:30.
"Absolutely normal European practice" – describes the hunger strike Korchynska. And adds that she uses starvation to recovery. Kononenko believes that the starvation method is possible, but the context of its application is still questionable. "It is a question not political, but economic. I don't know what is the President's Administration," he says. Personally the Deputy, confessed, not starving, but could make for some very important purpose – for example, the independence of Ukraine.
Videogood is a tragedy: what for willing to starve the Ukrainian deputies
TSN. 19:30
21 Jun, 20:22
Facebook

VKontakte

Google+

Twitter
Taruta believes that fasting in itself has the potential to become the global news, as was the case with the prisoner Savchenko. But winnick says that in this case it would be better to not starve Berezyuk and garden. "We should start," he advises. Before fasting you should be prepared, warns MP Birch. "Otherwise it becomes a farce," he said.
The experience of fasting is MP Mosiychuk, however, he says that such feats – not about him. "It's bad for my stomach, so I do not think that it was good. I can't starve at all, because it will open the sore… It's definitely not my method," he admitted. Share his mood and other colleagues. "I'm not ready. My grandfather, who was sitting at Babi Yar, always told me – maybe it's not quite right, but he always told me – better to die from gluttony than from starvation," – said Tretyakov. "Not ready to starve. Hunger is a tragedy," said Litvin.
The TSN reporter Daria Happy
Comments
comments