In Ukraine record-breaking expensive pork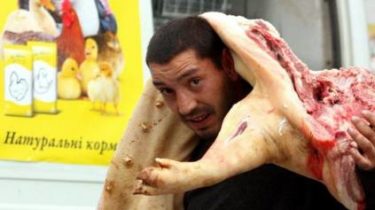 In the market of pork the record pace of rising prices of live weight of the animals bacon rocks. In mid-June the price increased to 44-47 UAH per kilo, and side cut – 79-80 UAH. That's 10% more than it was at the end of may.
The cost began to grow traditionally in late February, before Easter. About it reports "Ukrainian club of agrarian business". However, this year the cost has continued to rise in April and may and even in June.
Among the reasons for price increases – a reduction in the number of pigs, the low profitability of this business, the outbreak of African plague.
"Manufacturers are trying to compensate for the shortfall of income in 2016-early 2017, when prices were low. In addition to limited deals, price supports, and a seasonal factor: because of the heat, the daily gain of pigs less, which increases the time for fattening and costs manufacturers. In addition, the unpredictable spread of ASF has also increased the costs of compliance with Biosafety measures related to African swine fever. The factors that supported the growth rates, should be added, and the abolition of the special regime of VAT and the increase in two times the minimum wage," explains Eugene porter, an expert of agrarian markets of the Association "Ukrainian club of agrarian business".
Now in Ukraine there are of 6.78 million pigs. This is 8.3% less than it was last year in early June.
At the same time, processors are not able to increase pork imports due to high prices on the world market. From abroad for five months, deliveries fell by 49%, to $ 1.3 million (59% in real terms). In addition, the upward price trend also supported the increase in exports of pig live weight with Ukraine. In January-may exports increased to 6.3 million dollars, almost four times more than in the same period last year.
Meanwhile experts predict that in the retail meat until the end of the year increases of 20%.
Comments
comments