Lutsenko has submitted to Parliament a document on the involvement of Dovgy responsible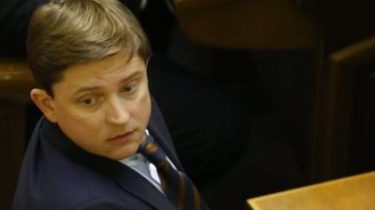 In the Parliament introduced a petition to grant consent for enlistment to criminal prosecution of people's Deputy Oles Dovgy. This was announced by Prosecutor General Yury Lutsenko in his Facebook.
"Submitted to the Verkhovna Rada representation about consent on bringing to criminal liability of the people's Deputy Dovgy, the actions of which are signs of abuse of official duties, committed in complicity, for the purpose of illegal disposition of the 10 land of natural reserve Fund – reserve "Zhukov Island", the total area of a 44.25 hectares", – he wrote.
Note, he is suspected of evasion from payment of taxes on 2 million hryvnias, and for Long stretches the story a decade ago, related to the distribution of protected land in the capital.
Meanwhile, in the Solomensky court of Kiev choose a measure of restraint for detainees at six so nazyvaemom amber caseinvolving two deputies – Boryslav Rozenblat with BPP and Maxim Polyakov of the popular front.
Recall that Long was going to be in NABOO in the investigation of production relative to the records Onishchenko about the alleged bribery of MPs. However, he did not come.
The Prosecutor's office is now investigating the case of allocation of land in Kiev in the period 2007-2009, in which appears the name Long.
Comments
comments