The issues of peace, war, and famine. Poroshenko in Washington announced the results of the visit to USA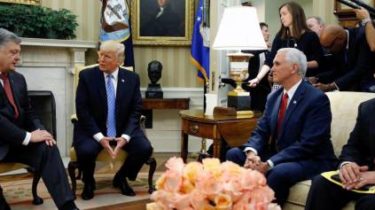 The President of Ukraine Petro Poroshenko in Washington said American leaders about the war in Eastern Ukraine and supporting the Ukrainian defense sector.
This is stated in the story TSN.19:30.
In the USA President Poroshenko met not only with Donald trump and Mike Pence. After meetings at the White house with the American President and Vice-President, with whom in detail to discuss further cooperation between Kiev and Washington – Petro Poroshenko went to the state Department and the Pentagon.
During talks with us Secretary of state Rex Tillerson , the President presented his proposals to actively involve the U.S. in the peace process in the East. At the meeting with the Minister of defence, General James Mattis, the parties discussed how to deepen cooperation in defence sphere between the two countries. Also on the agenda of the President in addition to issues of war and peace.
About reforms and further investments Petro Poroshenko said during a meeting with IMF head Christine Lagarde and world Bank's Jim Yong Kim.
Just ended the meeting of Ukrainian President with the speaker of the house of representatives Paul Ryan. Poroshenko also spoke about the details of negotiations, and the results of the visit.
"I raised the issue of the consideration of the Congress resolution recognizing the famine as genocide of the Ukrainian people", – said Poroshenko. According to him, the congressmen agreed to expedite consideration of the resolution.
Also in the next 36 hours, meetings were held with all key team players trump. "Was very long, very good conversation," – said Poroshenko.
Among the key issues of the negotiations: the US support for the sovereignty, territorial integrity and independence of Ukraine and strengthening the sanctions regime against Russia until full implementation of the Minsk agreements. He announced the visits of the representatives of the administration trump in Ukraine and the signing of important agreements, for example, in the defense sector.
See also:
Quiet and a short meeting. Wrote the new York times about the talks Poroshenko and trump
Immediately after the press briefing of Petr Poroshenko went to military Andrews air force base, from where they will fly to Brussels.
Comments
comments