HCP has published a video in which Guzhva allegedly demanding money neosartorya materials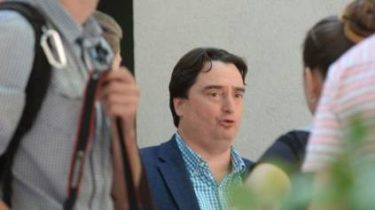 Press Secretary of the Prosecutor General of Ukraine Larisa Sargan posted a video from the restaurant, where a man similar to the editor-in-chief "Strenia" of the Igor Guzhva, discusses the issue of extortion of bribes for certain services.
Video from may 16, 2017 showed on Wednesday during a briefing the public Prosecutor Lutsenko.
So, the man, similar to Guzhva, unknown video discusses how to ask customers to remove material from the page of the online edition, and in complete silence. It offers for $ 30,000 to collect three materials for people's deputies from the Radical party Dmitry Linko, Alexey, Lena, Oleg Lyashko. Then men discuss whether this amount is appropriate and how much is silence.
Guzhva also says that he has prepared unpublished materials on these people.
In the end, the men agree that Guzhva can remove the "two-material thirty" and "shut up in thirty-five a month."
Prosecutor General Yury Lutsenko has declared, that will later be released video of bribe-taking and recording of marked money Guzhva.
We will remind, in the evening of 22 June, the chief editor of the newspaper "the Country.ia" of the Igor Guzhva was detained.
According to Prosecutor General Yury Lutsenko, Guzhva received 10 thousand dollars to not publish the dirt on one of the politicians. The journalist says that the case against him was fabricated.
After his arrest came two lawyers, but they are not missed in the editorial office. It turned out that one of the defenders Igor Guzhva in the room is still there is the Minister of justice of times of Yanukovych Olena Lukash.
She said that now Guzhva is located in the city police Department.
Note, in 2015, Igor Guzhva was wanted on suspicion of intentional evasion from paying taxes on about $ 18 million. On 1 August he arrived in Kiev and immediately went to the investigator a statement that it did not intend to hide from law enforcement.
On 29 July it became known that Igor Guzhva left the media holding "Vesti Ukraine", and also stepped down as editor-in-chief of the daily newspaper "Vesti".
Later, former chief editor of the newspaper "Vesti" Igor Guzhva has made for himself a pledge of $ 1 million 35 thousand 300 UAH (about 850 times the minimum wage), his court-appointed 4 Aug.
Videodo edition the Internet-editions "Strenia" raided
TSN. 16:45
Yesterday, 17:18
Facebook

1

VKontakte

Google+

Twitter

1
Comments
comments