In the Golden OSCE observers literally dodged bullets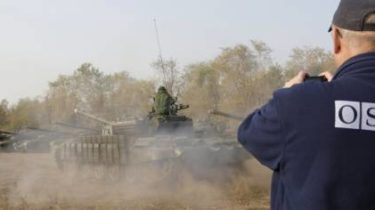 On Friday, June 23, members of the Special monitoring mission witnessed the fire from mortars and automatic grenade launcher in Gold.
This is stated in the report SMM OSCE on June 23.
"On June 23 in the government-controlled n gold-4 SMM patrol consisting of six employees on two armored vehicles were on the territory of the residential district, at a distance of about 300 meters to the North of the site of withdrawal of forces and means near the settlement Zolotoye (60 km North-West of Luhansk). All members of the patrol were outside of the car.
At 10:38 in less than one minute, they heard intense small arms fire (about 50-100 rounds), 2 explosion, estimated as the firing of mortar rounds caliber 82mm, and 3 rounds from the automatic grenade launcher (AGS) — all at a distance of about 100 meters to the South-East. At 10:42 team SMM heard 3-4 turns from a heavy machine gun, and then multiple shots fired from small arms at 150-200 meters to the South-East," the report says.
See also:
The militants of "DPR" attacked the unarmed OSCE observers in the Donbass
In the report it was observed that at least one bullet, which, according to observers, was released with South-Eastern direction, especially clear whistled and flew over their heads so low they had to duck.
See also:
The OSCE has told details of the brutal attack by militants on observers
After the shelling, the representatives of the SMM went to the car and left the danger area, heading West towards a government checkpoint.
"By the way, they noticed that members of the Armed forces of Ukraine sent their weapons to the South in the direction of land cultivation in the Golden and two cars (SUVs in green) belonging to the Armed forces of Ukraine, raced at high speed in the direction of the settlement gold-4. At 10:46 patrol drove up on a hill 1 km to the North of the checkpoint where observers saw a column of smoke, rising over 3 km to the South-East, according to them, the area of cultivation in the Golden," – said in the report and noted that the Joint center for control and coordination (SCCC) was informed about the incident.
Recall that the militants in the Donbas were prohibited to provide the OSCE with information on civilian casualties.
We are talking about the staff of the hospital №1 in Donetsk, who refused to provide the OSCE with information that would help to confirm the facts of civilian casualties.
Comments
comments