Turchinov announced the admission of Russians in Ukraine biometric passports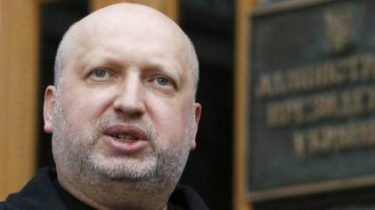 Secretary of the national security Council and defense of Ukraine Oleksandr Turchynov announced that Russian citizens across the border to Ukraine will eventually have to pass only biometric passports, and the simultaneous control of biometric data.
He said this on June 24 during the opening of a new frontier division, "the poplars" Kharkiv border detachment, reports "Radio Freedom".
"The guards are now counting on the technical details and also hope which still require technical and material equipment to ensure that, while the government is determined with the introduction of the visa (for citizens of Russia – ed.) to provide a pass to biometric passports, and border crossing any Russian citizen to select his identification characteristics or fingerprints or a retina scan," – said Turchinov.
See also:
The visa regime with Russia can enter without a solution to VR – Herashchenko
Turchynov added that the technical work for this is already underway, and expressed hope that the government financial support to this work which should give a result within a month.
"The fact that many Russians no biometric passports, is their question. Let him order them. We need to secure the border and to clearly identify those who cross the border in the first place, from the country-aggressor," – said the NSDC Secretary.
The Secretary of the national security Council did not mention the timing of the introduction of such a complex verification.
The chief of East regional government of state frontier service Sergey Bidylo confirmed that specify a set of equipment for such inspection, which need to buy and implement.
We will remind, the day before, June 23, NSDC Secretary Oleksandr Turchynov has urged the Verkhovna Rada to adopt a decision on the introduction of a visa regime with Russia before the parliamentary recess.
In addition, Turchynov said that Ukraine is preparing a law for the introduction of additional inspections for the residents of the occupied territories of Donbass and Crimea, who have applied for biometric passports.
Comments
comments