Putin arrived in "Artek" in Crimea, he was again caught in the shower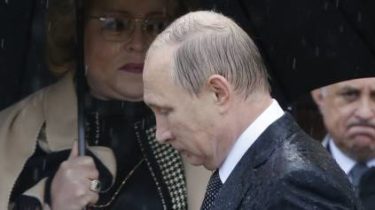 Russian President Vladimir Putin arrived in the international children center "Artek", in Russian-occupied Crimea.
About it reports TASS.
According to the report, Putin inspected the layout of the complex "Artek", which shows that they want to build the Russians in the years 2017-2018.
Putin during the inspection of the layout was accompanied by Deputy Prime Minister Olga Golodets, presidential adviser Andrei Fursenko and the so-called head of Crimea Sergey Aksenov. About plans on development of the complex Putin told the so-called Director of the camp, Alexey Kasprzhak.
See also:
"In Ukraine everything is bad, but Yanukovych did not run away": the media Putin caught on another lie in an interview with stone
Kasprzhak said to Putin that the area of the complex is comparable with Monaco. He also spoke about the rehabilitation work camps in 2015 and 2016. Thus, Kasprzak wants to in the future in "Artek" can get 10 of those. children. As reported TASS, now in "Artek" in the Russian-occupied Crimea may be 3.3 thousand children.
According to the so-called Director of the complex, come to him not only the kids from Russia but also from other countries, particularly the USA, Ukraine, Syria and European countries".
The camp Director invited Putin to visit several buildings of Artek, jokingly noting that "the weather can contribute to".
"You think?" – said Putin, commenting on the fact that at the time of his arrival at the camp went very heavy rain.
Recall that March 31, 2015 occupation authorities of the Crimea was handed over "Artek" in the property of Russia. Ukraine called on UNESCO to protect the international children's center from the Kremlin.
Comments
comments