Kazakhstan "revenge" of Russia, and imposed restrictions on its trains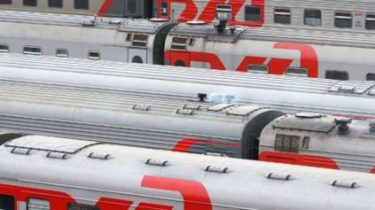 Railway of Kazakhstan has banned the movement through its territory for innovative trains of "Russian Railways". The official reason – say, the infrastructure is not ready to take the train with a load of more than 23.5 tons per axle.
However, such actions of Kazakhstan can be "revenge" Russia for what it has banned the movement of 5.4 thousand innovative train, Kazakhstan in 2011-2012 purchased from China. About it writes "Kommersant".
In "the Russian Railways" there are 65 thousand wagons with axle load of 25 tons, and on June 1 began operation and wagons with a load of 27 tons.
Private Russian railway carriers say that this ban is not touched. At the same time, a source in the Russian transport inspection noted that the actions of the "Kazakh Railways" is not consistent with the decisions taken by the Council for rail transport of CIS countries, which approved the running of wagons with axial load of 25 tons on the territory of CIS countries.
Comments
comments