The Russians wanted to steal our history, but we do not allow Poroshenko about Anna Kiev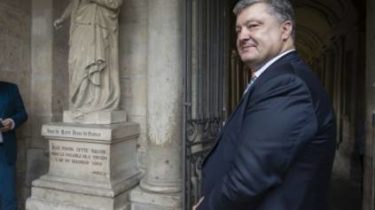 The President of Ukraine Petro Poroshenko has honored the memory of the Queen of France Anne of Kievand laid flowers for her monument in Senlis near Paris.
During the speech, Poroshenko called Queen Anne a symbol of the partnership between France and Ukraine.
"The world today needs to be with us in the conditions of Russian aggression. You should call the aggression – aggression, Russia is the aggressor, and the Anne of Kiev, Anna of Kiev", – said the President.
See also:
Makron "wiped his nose" Putin and called Anna Kiev is an important piece of Ukrainian-French relations
Poroshenko recalled the recent words of Vladimir Putin, when he called Anna Kiev Russian girl.
"And even when the Russians wanted to steal from us our history, we do not allow. The whole world will now know Anna as Anna of Kiev and the symbol of the partnership between France and Ukraine, between Paris and Kiev", – said the President of Ukraine.
Anna Kyivska symbol dawnh partnerskich stosunkiv mizh Civam the Paris naso spline tysyacheletia history. Mi to not dozvoleno creep story our that our into the future. I share the happiness of Ukraine in Clubbing!
Posted by Petro Poroshenko on 26 June 2017 R.
Recall, may 29, during a joint press conference with President of France Emmanuel Macron, the head of the Russian Federation Vladimir Putin has declared that a daughter of Prince Yaroslav the Wise Anna was "Russian".
The "enlightened French public knows about the "Russian" Anne – Queen of France; the youngest daughter of our Grand Prince Yaroslav the Wise was the wife of Henry I, and made a significant contribution to the development of France, being one of the founders of at least two European dynasties of the Bourbons and Valois, one of which still reigns in Spain", – said Putin.
Ukrainian President Petro Poroshenko in his speech on the ratification of the Association agreement responded with a joke that Putin was trying to "steal" Anna in front of the whole of Europe. He added that Ukraine was part of Europe from the times of the Principality of Yaroslav the Wise.
"By the way, since the old Ukrainian Prince Yaroslav the Wise and his daughter-the inhabitant of Kiev Anna Yaroslavna that just yesterday, Putin tried in front of the whole of Europe to steal the Russian history", – said the head of Ukraine.
The whole battle around Anna Kiev launched official accounts of Ukraine and Russia in Twitter.
Videoporoshenko and macron warmly shook hands before talks in Paris
Policy
Yesterday, 14:13
Facebook

3

VKontakte

3

Google+

2

Twitter

3
Comments
comments