Holodnitsky finds that his phone is tapped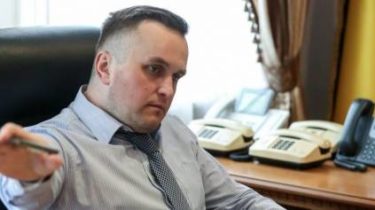 The head of the Specialized anti-corruption prosecutors Nazar Golodnitsky considers that his phone is tapped.
"I think so," said he in an interview to ZIK, responding to a question.
When the Holodnitsky asked whose hands the matter, he said that "the wire" carry out "everything".
"I'm a numbers have not changed. I have this since 2006," – said the head of SAP.
See also:
In Kropyvnyts'ke businessmen going to sell the technique, which listened to the FSB
According to Golodnitsky, his office found means of listening to, but he didn't make a sensation.
"The cords which were, thus, the microphone. But I did not do sensation… last year I Wake up and my bedroom drone flies. Shoots how I sleep. Well, the window is visible, focus, where the blinds were not locked. And make sensation of it and say that you are persecuted, then so can a schizophrenic become," – said the head of SAP.
See also:
The IMF urged the Ukrainian government to provide the NEB the right to listen to suspects in corruption
Recall, October 28, the edition "Ukrainian truth" has accused the presidential Administration in listening to their journalists. About it it is spoken in article "Ukrainian truth", where it is noted with reference to sources in law enforcement agencies that collect information does the SBU at the request of the AP. Also, according to them, their content receives and the interior Minister Arsen Avakov that affect not only journalists, but also politicians.
The newspaper is sure that listening is illegal. In their opinion, thus the government is trying to find out about upcoming investigations and materials.
Comments
comments