Official: free trade between Ukraine and Canada will start work from August 1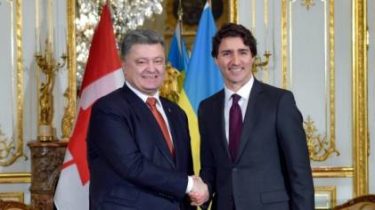 The free trade agreement between Ukraine and Canada will come into force on 1 August.
It is reported by the Embassy of Ukraine in Canada, which has been received from the canadian government a corresponding note.
"The Ministry of foreign Affairs, trade and development happy to inform the Embassy about the completion of internal procedures of Canada, necessary for the Treaty to enter into force. Thus, in accordance with the understanding of Canada, the Agreement will enter into force on 1 August 2017," – said in a note to the canadian foreign Ministry.
I hasten to report: free trade between Ukraine and Canada starts on the 1st of August. Canada sent us a note about the completion of ratification procedures pic.twitter.com/TwmBCvZJv5
— Andriy Shevchenko (@AShevch) 29 June 2017.
"We have mixed feelings: the finish and the start in one. This is a historic moment, which concludes the enormous amount of work of our diplomats and politicians. But this is the beginning of a much more significant milestone: the time to fill this Deal with life contracts, jobs and investment," – said the Ambassador of Ukraine to Canada, Andriy Shevchenko.
The agreement from August 1, will cancel 98% of tariffs on Ukrainian goods, which will be sold in Canada. For canadian goods immediately cancelled 72% of tariffs, and for 7 years duty-free exports will increase to 98%. The agreement also mutually opens to public procurement markets. Separate sections of the document to protect electronic Commerce and intellectual property.
Comments
comments