Gunmen opened fire on their Slavonic – exploration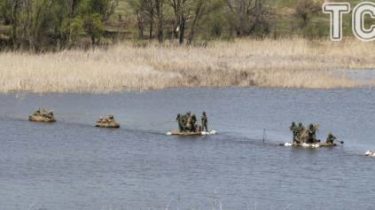 The militants of illegal armed formations in the Donetsk region killed three and seriously wounded two of his "comrades" of the unit, which at full strength is tried secretly to leave the advanced position.
As the Department of intelligence of the Ministry of defense of Ukraine on his page on Facebook, six of the fugitives were detained.
"Division 11 separate mechanized regiment (Donetsk) 1 AK, which was formed exclusively of so-called "penalty box", they had previously been kept under arrest for gross violation of military discipline, in full force trying to secretly leave the front line, they were fired from weapons of combat vehicles other Department of the same regiment. The incident resulted in three killed, two seriously injured, six detained, " the statement reads.
See also:
Ukrainian military repulsed the attack of militants in the "gray area" near the Heater
In General, the intelligence note, the decline in the morale of military formations and units of 1 (Donetsk) and 2 (Sevastopol), the army corps of the armed forces of the Russian Federation, the increase in cases of evasion of duty and the growth of disputes in the relations between officers and personnel.
According to the survey, in 9 separate assault infantry regiment three soldiers voluntarily left forefront, and soldier of 3 separate infantry brigade (Gorlovka) 1 AK committed suicide by hanging, unable to withstand the heavy conditions of service in connection with the dismissal of the command of the petition's dismissal on family circumstances.
Comments
comments