"This story stinks". Gerashchenko admitted the involvement of the Russian Federation to the detention of Ukrainians in Italy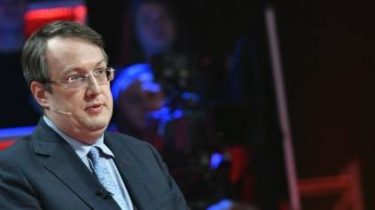 Russian special services could contribute to the arrest in Italy of the Ukrainian military Vitali Marcia.
This was stated by adviser to the interior Minister, the people's Deputy from "popular front" Anton Gerashchenko on air of TV channel "112 Ukraine".
According to him, the Markiv came to Italy to visit her mother, and he was arrested.
"This whole story smells very bad and is similar to another Russian provocation. The fact that the battalion of them. Kulchytsky was not mortars, of which it would be possible to hit Italian photojournalist," said Gerashchenko.
He also added that the detention Marcia could be a Russian provocation.
See also:
To the detainee in Italy volunteer Marcive don't let the Consul – Deputy
"Italian law enforcement authorities should provide Ukraine with information, which clearly painted, what evidence they have… We assume that, most likely, is the Russian provocation, that the security services of Russia gave Italy some flimsy documents on the basis of which the Italians opened a criminal case", – said the politician.
Gerashchenko said that, apparently, Italy has not informed Ukraine about the search Marcia, and added that he had no precise information about this.
We will remind, today, on 1 July, it became known that the Ukrainian volunteer Vitaly Marcia detained in Italy on suspicion of involvement in the death in the Donbass journalist Rochelle in 2014. The Ukrainian Prosecutor General's office said that surprised by this arrest and that now the Ukrainian law enforcers in cooperation with the Italian colleagues are investigating the case.
MP Antonyschak who is familiar with Merkavim for service, also said that in 2014 the Ukrainian military was not mortars, so he doubts that the Italian journalist was killed because of a mortar attack by the Ukrainian fighters.
"In one of the special groups was Vitaly Markov, call it "Italian", and when blocked our convoy on the bridge, appeared, imagine, may 2 (about it no one knew) representatives of Russia Today, and the representatives of the Italian journalists. My first question: how did they get there?… We analyze where he was killed with colleagues, his (journalist Rochelle – ed.) could not kill from the mountain Karachun", – said Antonyschak.
Comments
comments