In Sweden, a playful moose chased a golfer and interested in the clubs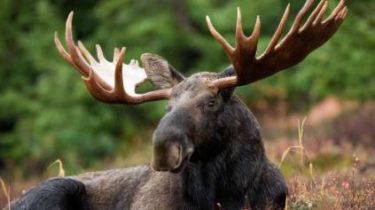 In Sweden, a young elk, which appeared on a Golf course, pursued by the player.
See also:
The Ministry of environment wants to put a moose in the Red book
Facebook user Tony Swan also participated in the game filmed the incident on video. First moose interested in the bag with the Golf clubs. After his attention shifted to the hidden golfer.
The animal tried to get closer, but the man a couple of times I rounded the tree and ran to the other side of the field.
Elkrunne Dramatik på golfbanan
Posted Tony Swahn 27 June 2017 R.
The elk jumped after him and almost caught up, but at the last moment turned and headed towards the forest.
Recall that the moose had previously noticed, and in a residential area Obolon. The elk was running just under the high-rise buildings. Animal welfare activists were mostly concerned that he's hurt – limping and in some places left a trail of blood. The most excitement the animal called when he crossed the Dnieper – antlered swimmer took a casual vacationers.
Comments
comments