Dobkin predicted the lifting of his immunity because of "personal revenge" of the attorney General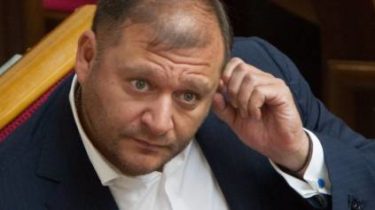 MP from the faction "Opposition bloc" Mikhail Dobkin has assured that it will be deprived of parliamentary immunity.
He declared it on air of TV channel "112 Ukraine".
"The Committee meeting will be on Wednesday (12 July – approx.ed.). We have on Wednesdays a short session that day and the meeting of committees. And on Thursday it will be submitted for consideration (the Verkhovna Rada – ed.ed.)", he said.
According to Dobkin, he collects the necessary documents, and also writes lawyers his explanation to the Committee.
"Come armed to the teeth, will try to prove that all the claims by the prosecution have no background… It's a kind of game with the community… People will not go to trial, but simply to choose a measure of restraint, arrest, and society will tell you that people in jail, then justice has been done", – he stressed, adding that the Prosecutor General's office already have an idea for his arrest.
Separately, the MP assured that the case against him is a "personal vendetta" Prosecutor General Yury Lutsenko, whom he had warm relations under President Viktor Yushchenko.
Earlier, Lutsenko asked BP to coordinate the prosecution of five people's deputies. The Prosecutor hopes that the Parliament will consent to the criminal prosecution of their colleagues. The submission relate to: the Deputy from NF Eugene Dade, the group "will of the people" Oleksiy Dovgiy, "Radical party" Andrey Lozovoy, Deputy from BPP Borislav Rosenblatt, MP from the NF Maksym Polyakov.
Later it became known that the speaker of the Verkhovna Rada Andrew Parubiy sent five ideas about to remove the immunity of 5 MPs in the procedural Committee of the Verkhovna Rada.
In turn, the procedural Committee of the Verkhovna Rada gave consent to the removal of immunity Dovgy. The decision was taken unanimously.
We also learned the name of the next MP, which Lutsenko will ask to remove parliamentary immunity, which can be representative of the "Opposition bloc" Yevhen Bakulin.
Comments
comments