Dovgy has ridiculed the charges of the GPU compared to the vote for Lutsenko, the Prosecutor General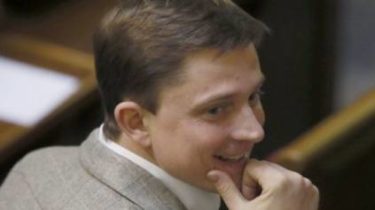 The intention of the Prosecutor General and the anti-corruption Prosecutor's office to prosecute MPs for the second day in a row does not find support in the procedural Committee of the Verkhovna Rada. Its members did not support the removal of immunity of Oles Dovgiy, who is accused of land fraud in the capital during operation, the Cabinet Secretary said in the story TSN.19:30.
In the case where 45 hectares of land in reserved Zhukov island, only the nominal value of which amounts to 82 million. Lutsenko at the meeting of the Committee showed the document dated October 2007 with the signature of long. The latter is charged with the transfer of a fictitious the office of the ten pieces of protected land. The then Deputy of the city Council Natalia Novak says that while in the hall was not even a quorum, for him specifically changed the agenda, I confused the numbers of the decisions that the deputies did not understand, for what vote, and the margins have been circulating rumors about the $ 2 million allocated to each of the faction that supported the illegal allocation of land.
Videofragmenty the Committee supports the Prosecutor attempts to prosecute MPs
TSN. 19:30
Yesterday, 20:27
Facebook

1

VKontakte

Google+

Twitter
Dovgy says that the last link in the decision-making of Council is the mayor – then it was Leonid Chernovetsky. Therefore, they say, must ask him. "To sign the decision of the city Council or nakalata veto – an exclusive prerogative of the Kiev city Chairman", – explained the Deputy. Himself responsible for the vote of the entire team responsible believes. "I now often told that I voted for attorney General with no legal education. I voted, I confess, but not responsible for this vote," added long.
See also:
MPs and their mandates. A list of MPs who took the Prosecutor's office
In the end, the politician asked the Committee to support the idea of bringing to criminal liability because, they say, is not afraid of the court. After hot discussions, the Committee decided that in view of the Prosecutor General many flaws, but to send it for consideration to the Parliament. The attorney General hopes that next Thursday the question will vote. On the eve of the same decision , the Committee decided against Yevgeny Deydey, and Wednesday will be the turn of Andrei Lozovoy.
The TSN reporter Dmitry Furdak
Comments
comments