In the Sophia of Kyiv will sound Opera singing for the sake of the Reims gospel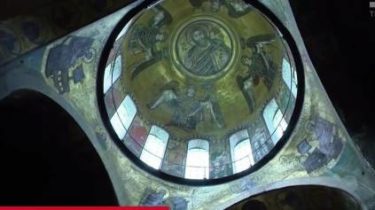 Old Kiev manuscript Reims gospel, which Yaroslav the Wise's daughter Anna went to France, to return to Ukraine in the form of facsimile editions. Still in the state were no exact replicas of the Shrine, says the story TSN.19:30.
Funds for this project will be assembled at a charity concert the most titled Ukrainian Opera singer Victoria Lukyanets, which will perform in Sophia. The concert of the Opera star will be held on July 5, the day before, the singer admitted that he had not even dreamed that her voice sounded in such a special place. No choral or instrumental musical accompaniment will not be – only soprano Lukyanets.
Videotransit Opera singer plans his voice to raise money to print a copy of the Reims gospel
TSN. 19:30
Yesterday, 20:50
Facebook

2

VKontakte

Google+

Twitter
Money from students will collect print exact copies of thousand-year relics. Reims gospel is a national relic of France, the oldest known books Kiev. In France, she came with Anna Yaroslavna, who there married. The manuscript is kept in Reims is the city where French kings were crowned. This gospel was the coronation – it swore all French kings up to Charles X in 1835.
The gospel – book of the lost library of Yaroslav the Wise, founded in 1037 during the Sophia of Kyiv. According to one version, his father gave it to Anna when the daughter went to France. On the walls of the Cathedral there is an autograph of Anna. There is written her name the handwriting, which Anna has signed up for the Charter of a Saxon Abbey in France.
See also:
On the walls of St. Sophia revealed the unique millennial inscription
Sophia really looking forward for further study are accurate, that is a facsimile of the copy of the Reims gospel. Now Ukraine has only to reprint and – very limited edition.
As reported, the President of France Emmanuel macron following the meeting with the Ukrainian guarantor Petro Poroshenko said that the figure of the Queen of France Anne of Kiev was importantfor the Ukrainian-French relations. Recall, may 29, during a joint press conference with President of France Emmanuel Macron, the Minister of the Russian Federation Vladimir Putin during a meeting with a Macron called the Queen of France, Anna Yaroslavna "Russian". Ukrainian President Petro Poroshenko in his speech on the ratification of the Association agreement responded with a joke that Putin was trying to "steal" Anna in front of the whole of Europe. He added that Ukraine was part of Europe from the times of the Principality of Yaroslav the Wise.
The TSN reporter Irina Markevich
Comments
comments