The full video of the disassembly of the elite seaside villas in the occupied South of the Donetsk region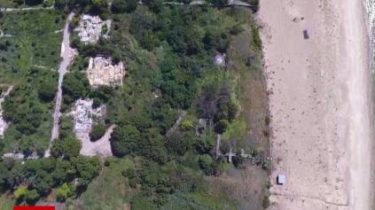 The Russians steal a luxury country house just on the demarcation line near Shyrokine. This is confirmed by the video from the drone, which made the soldiers of the Ukrainian volunteer army. It has got TSN.
Near the village of Sahanka Azov sea there is a small holiday village donchanka-owned metallurgical plant "Azovstal". In the homes of the elite species of trees lived the top management of the enterprise. Over the past year, these villas halved.
Videoporno video with footage of the "stolen" houses village of "Azovstal"
Ukraine
Yesterday, 22:02
Facebook

2

VKontakte

Google+

3

Twitter
This can compare the images from Google Maps years old and fresh videos. Instead of a dozen wooden houses – now there are some foundations. The Russian media are lying that they destroyed by shelling. But the volunteers captured footage clearly shows that the buildings carefully dismantled and removed. Witnesses saw them re-gather, but on the territory of Russia. And the fresh video of the terrain from the UAV shows that the disassembly continues. The dacha owners say that because of the occupation had not been there for three years and no details I can not tell.
"When carried out by the stairs just went over the complex donchanka – and saw. Did not understand at first what it is that only the foundations remain. And later filmed the workers who quietly, peacefully, during the "bread truce" is stripped down to the Foundation of the house. In this moment, as we speak, this oak is loaded on the machine," – said the commander of the 8th battalion of the Ukrainian volunteer army with the Callsign "Cherven".
Comments
comments