A resident of Malaysia scare videos from the world's largest flat worm with a head hammer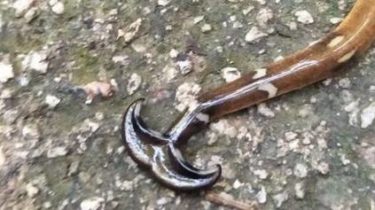 A resident of Malaysia, Danish Ho accidentally removed the terrible worm, which you can imagine.
The video that the man posted to Facebook, instantly got millions of views and has been commented upon thousands of times, reports The Daily Mail.
See also:
Dutch fishermen caught a two-headed Dolphin
Ho came across a strange creature during Cycling. In the video, behind the scenes the man is surprised that, perhaps, the strange creature with the head, the hammer is a snake.
However, in the comments to the video Ho replied that he was a rare creature – the largest kind of flat worm.
As noted in the publication, the worm is so dangerous, how disgusting he looks – he literally drank the lifeblood from their victims, and can reproduce, tearing myself apart.
Recall that previously unknown sea monster washed up on the coast of Indonesia. Local fishermen found on the beach the body of a 15-metre long sea creature.
According to one version it is a giant squid, the body length of which may exceed 16 meters. According to another version, on the coast the body was washed up humpback whale.
Comments
comments