In the center of Kiev Porsche ran over protesters near the Cabinet of pensioners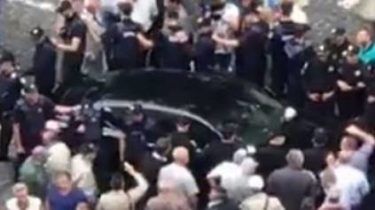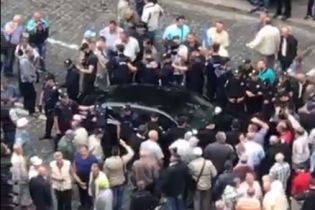 In Kiev, during a rally near the Cabinet of the Porsche Panamera SUV drove into a crowd of activists.
This was announced on his page in Facebook assistant people's Deputy of Ukraine Denis Kryvopillya.
"In front of the Cabinet, where today protesting pensioners of the Ministry of interior, the Porsche Panamera entered the crowd and moved the leg of one of the activists", – he stressed.
According to Krivopalova, after hitting into the car and rocks flew, and a speaker.
In addition, the assistant Deputy said, citing the words of eyewitnesses that the driver of the SUV smelled strongly of alcohol.
"The police took one of the activists and took the car to the ring," he added.
It is still unknown who was behind the wheel of a Porsche.
In front of the Cabinet, where today protesting pensioners of the Ministry of interior, the Porsche Panamera entered the crowd and moved the leg of one of the activists. According to eyewitnesses, the driver smelled strongly of alcohol. In the car flew off the speaker and stones. The police took one of the activists and took the car to the ring. More information write here: http://asn.in.ua/ru/news/news/110489-mitingujushhie-naprotiv-kabmina-razbili-shikarnyjj.html
Published by Denis Krivopusk 6 Jul 2017
Earlier, in Lviv near the Church of the SUV flew into the crowd of people. One woman died at the scene. Responsible for a deadly road accident in Lviv was a former employee of GAI
Comments
comments