War of drivers and passengers in the Kyiv region: carriers complain of big losses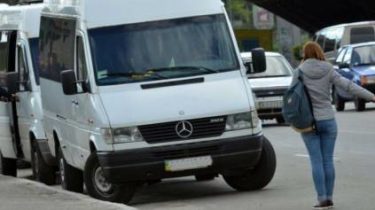 To work in Kiev every day minibuses, in their cars or get a ride almost 200 thousand inhabitants of the suburb, said in the story "Sedanka z 1+1".
Get to work the ride is very fast and comfortable way, recently wanting increased.
For example, almost 50 thousand residents of Vyshgorod at least 10 thousand every day go to work in Kiev, and many of them chooses a ride for speed and comfort.
Videoprivate went to war with fellow travelers, who bankrupt the business
Snidanok 1+1
Today, 09:37
Facebook

2

VKontakte

Google+

Twitter
However, legal carriers are unhappy that they have taken the earnings, and I think that most fellow travelers – the so-called "rooks" that are specifically pick up people and have good business.
"Carry out illegal traffic. Do not pay any taxes. Cause great damage to our businesses. Work without any authorization documents", – said one of the carriers Aleksandr Baluev.
See also:
In "Kievpasstrans" explained why raise fares in the capital
Drivers of minibuses complain, because companions can't drive up to the stop. A place where fellow travelers pick up people, set with the traffic violation. People are just on the road. In this regard, every day police fines drivers of following cars, but that does not stop them. After all, for a comfortable ride people give money that partially beats off the money for the gasoline.
"These people are waiting for the bus, which goes not as often as perhaps they would like. And so if I have 3-4 places I can get a ride with them. I did it for free… Is about 10-15 people, in different weather: in the cold and rain, small is not very adapted to stop," said automotive journalist Vitaly Maximov.
In his opinion, the government should regulate the transport of people on the ride, because in Europe it's been working.
Earlier, Google started testing the service to find travel companions. Unlike a taxi service Uber, on the platform will be implemented the principle of establishing the connection between the potential passenger and the driver.
Comments
comments