More than two hours about Ukraine, Syria and cyber security. The main theses of the first meeting of Putin and trump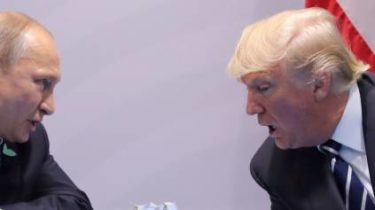 Today, July 7, in Germany on the sidelines of the G20 summit held the first meeting of Russian President Vladimir Putin and U.S. President Donald trump. Before that, they communicated only by phone.
The heads of state talked about the situation in Syria, the terrorist organization "ISIS", about Russian-American relations and the situation in Ukraine and about cybersecurity.
See also:
In the Network appeared the first video of the meeting, trump and Putin during the G20
The meeting was also attended by the head of Russian foreign Ministry Sergei Lavrov and U.S. Secretary of state Rex Tillerson, as well as translators.
Shortly before the negotiations trump, staying in Warsaw, urged Russia to "stop destabilizing Ukraine and to support hostile regimes in Syria and Iran." Trump also announced the support of NATO and U.S. willingness to implement article 5 on joint defense. Because of this, the meeting itself was held not a positive background.
Late
The meeting began with a delay from the scheduled time and lasted 2 hours and 20 minutes, although it was expected half an hour. Before the talks, Vladimir Putin said he was glad to see and meet Donald trump.
"I am very glad to meet you and I hope that, as you said, our meeting will yield positive result," Putin said the American leader.
See also:
Trump and Putin for the first time shook hands on the sidelines of G20
In turn, the US President, Donald trump declared that personally to meet with Russian leader Vladimir Putin for his honor.
Issues of stabilization of situation in Ukraine at the G20 summit in Hamburg were discussed. Also raised discussions on the extension of sanctions against Russia.
Comments
comments