Tillerson said Poroshenko was talking about trump and Putin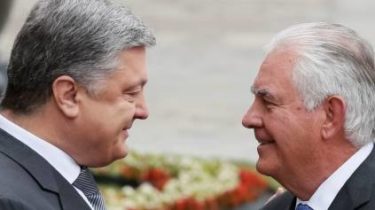 After high-level contact, Ukraine and the United States very quickly moved on to practical work. This was stated by President of Ukraine Petro Poroshenko after talks with U.S. Secretary of state Rex Tillerson.
See also:
Joint statement Poroshenko and Tillerson: watch the full video
"Moved clearly, coordinated, pragmatic and organized", – he said at a press conference.
The visit of US Secretary of State Mr. Rex Tillerson is an important signal of support to Ukraine pic.twitter.com/Ol0hlLzaiU
— Petro Poroshenko (@poroshenko) on 9 July 2017.
He also thanked Tillerson for effective negotiations held in Kiev and in Washington.
"I am grateful for this symbolic and timely visit to Kyiv today. Immediately after the talks in Hamburg at the summit of the Big twenty we are now very well informed about what was discussed, coordinated our future and are confident that the first meeting of the presidents of the United States and Russia, which discussed the situation in Donbas, and what to do with Russia's behavior-compliance with the Minsk agreements and reimplementation clear and concrete steps to de-occupation of Ukraine and bring peace to the Ukrainian land".
Earlier it was reported that Putin and trump held in Hamburg the first meeting on 7 July. According to media reports, the US President talked about the Kremlin's meddling in the presidential election for about 40 minutes. Sometimes the conversation was heated.
Comments
comments