Tillerson said that Russia must cease fire in the East, and withdraw heavy weapons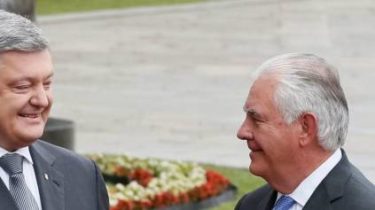 U.S. Secretary of state Rex Tillerson during a joint appearance with President of Ukraine Petro Poroshenko said that the purpose of States is to restore the territorial integrity of Ukraine.
However, he added that since the beginning of the crisis in the East and South of Ukraine, the U.S. has provided more than $ 600 million in its settlement.
Tillerson stressed that, in particular, in the East in the first place to provide security for people regardless of their ethnicity.
See also:
Tillerson said Poroshenko was talking about trump and Putin
Also demicircular the United States believes that Russia should take the first step to overcome this crisis, he added that he repeatedly insisted on it in negotiations with representatives of the Russian Federation. And these steps should be the cessation of firing on Ukrainian territory and the withdrawal of heavy weapons in order to could work the OSCE observers.
"In my discussions with the leadership of Russia, I spoke several times about the need for Russia made the first step to de-escalate the situation in Eastern Ukraine, in particular, on ceasefire and withdrawal of heavy weapons in order to allow the OSCE monitors to do their job," said Tillerson.
"We are disappointed with the lack of progress in the Minsk process," said Tillerson also. And so, according to him, Ukraine has been appointed special envoy of the US Department of Ukraine with Kurt Volker, who will coordinate the crisis with the "Norman Quartet."
Everything Tillerson noted the great economic achievements of Ukraine.
Recall, Rex Tillerson arrived in Kiev on the morning of 9 July, he was greeted with the traditional bread and salt. Tillerson, along with arrived in Ukraine and newly appointed special envoy of the U.S. Department of Ukraine with Kurt Volker. He is here together with the delegation.
On the same day, Poroshenko intends to hold a meeting with the UN Secretary-General antónio Guterres. He already met the Ukrainian Prime Minister Volodymyr Groysman.
Comments
comments