Happy to consider all ideas about integrity in one day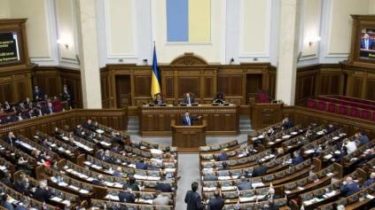 MPs propose to consider all representations about removal of inviolability from deputies Thursday, July 13.
About this during the conciliation Council said the Chairman of the Verkhovna Rada Andrei Parubiy, reports Ukrainian Pravda.
According to him, he received an offer to review all the submission from the Prosecutor General in one day.
He noted that if Parliament will support the proposal to review all the submissions together, it will be held on Thursday, July 13.
"If not, tomorrow we will begin consideration of representations on the withdrawal of immunity", – said Parubiy.
He also reminded that not all views of the GPU was considered in committees, in particular the submission to the people's Deputy from "opposition bloc" Mikhail Dobkin.
See also:
"Without Dobkin set incomplete". Lutsenko wants quick consideration of a submission on MP
We will remind, the VR regulations Committee has considered the submission of the Prosecutor General of Ukraine Yuriy Lutsenko regarding the MP from the "Block Poroshenko" Borislav Rosenblatt. Members supported all three of these concepts: arrest, detention and criminal prosecution.
The Committee's decision was made after the National anti-corruption Bureau and the Specialized anticorruption Prosecutor's office released videosthat testify to the involvement of Rosenblatt to the corruption scheme for the organization of illegal production and sale of amber.
Before Lutsenko has asked the Verkhovna Rada to agree to the prosecution of five people's deputies. The Prosecutor hopes that the Parliament will consent to the criminal prosecution of their colleagues. The submission relate to: the Deputy from NF Eugene Dade, the group "will of the people" Oleksiy Dovgiy, "Radical party" Andrey Lozovoy, Deputy from BPP Borislav Rosenblatt, MP from NF Maxim Polyakov.
Videolatina provided evidence of involvement in the amber case of Borislav Rosenblatt
TSN. 12:00
July 7, 12:53
Facebook

VKontakte

Google+

Twitter

2
Comments
comments