The test purse. When they hit "space" the price of food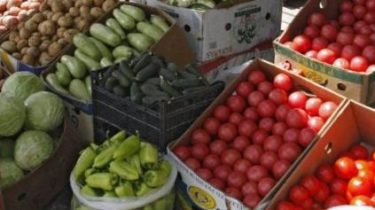 The prices of vegetables and fruits in comparison with last year soared at times. For example, cabbage, three potatoes – twice. Expensive and social products – milk, meat, eggs.
Ukrainians rise in prices associated with the deregulation of prices for products of social value. Today 10 days after the resolution came into force. This is stated in the plot program "snidanok z "1+1".
From 1 July the government ceased control of prices for products of social value. Such as: bread, milk, eggs, meat, cereals and sugar. Explain, this should reduce pressure on food producers. People are not very excited about this news. In fact, compared with 2016 prices for all products, not just social, and even seasonal, rose by almost 30%.
For example, the price of a kilo of potatoes compared to last year jumped two times – from 10 UAH to 20 UAH. Onion costs 8 UAH, as in the past year, and 14 UAH per kilogram. Most of all rose in price cabbage – from 5 UAH to 15 UAH per kilogram. Expensive and meat. The average per kilogram of pork sellers ask from 110 UAH. For a chicken carcass – almost 50 UAH. Last year it was 70 UAH 40 and UAH, respectively.
Experts say that the abolition of state price controls is not the only reason for their growth. First factor – this year, farmers planted significantly less vegetables, than last year. The second important factor – the April and may frosts, which are very much struck by the plants established in this period.
To save money on vegetables and meat on special fairs organised weekly in major cities or markets. Prices are lower in average by 20%.
And in July should decrease the prices of all seasonal vegetables and fruits – new crop should please the wallets of Ukrainians in 25-30% of downside from current prices. Meat, on the contrary, a little added to the price. In particular, pork is traditionally expensive in the summer, because it's likely to sell for a barbecue.
Comments
comments