The faction of the BPP are going to talk about removal of inviolability from Rosenblatt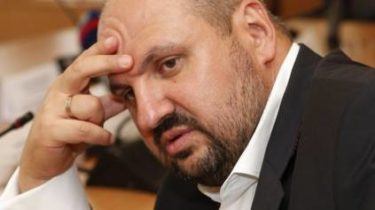 Monday, July 10, in the evening, the fraction of the PPB will meet to discuss the position with regard to the six performances of the GPU on the removal of immunity of a Ukrainian people's deputies.
This was stated by the Chairman of the faction of Arthur Gerasimov on the sidelines of Parliament, writes "Ukrainian truth".
"We expressed the initiative to consider this issue on Thursday. As for our position on these views – we have this evening will be the fraction, we will discuss this issue", – he said, noting that the faction would decide on its position on immunity and Rosenblatt without the participation of the President.
According to Gerasimov, he had not personally seen the movie NABOO about the scheme for the extraction of amber, "because he was busy."
"These materials looked our MPs, many of them condemn the actions of our people's Deputy", – assured the head of the BPP.
Videoprobe proposes to consider 6 cases of removal of parliamentary immunity in one day
TSN. 12:00
Today, 13:07
Facebook

VKontakte

Google+

Twitter
We will remind, the Director of NABU Sytnyk June 20 during a press briefing disclosed a scheme for the extraction of amber, to say nothing of the people's Deputy from BPP Boryslav Rozenblat and the MP from the "people's front" Maxim Polyakov. According to the head of the Bureau, referred to the scheme under the guise of reclamation of Zhytomyr region planned actual amber extraction and subsequent implementation through an offshore company where the founder was the sister of Rosenblatt.
Subsequently, the NEB released the full version of the film about the scheme Rosenblatt and Polyakov for the extraction of amber. According to the Bureau, the video recorded meetings and negotiations agent Catherine Maxim Polyakov, his assistant Tatyana Lubenko and the people's Deputy from BPP Borislav Rosenblatt, who agree on illegal amber mining.
After that the procedural Committee of the Verkhovna Rada considered the submission of the Prosecutor General of Ukraine Yuriy Lutsenko regarding Rosenblatt. Members supported all three of these concepts: arrest, detention and criminal prosecution.
Note, Lutsenko asked BP to coordinate the prosecution of five people's deputies. The Prosecutor hopes that the Parliament will consent to the criminal prosecution of their colleagues. The submission relate to: the Deputy from NF Eugene Dade, the group "will of the people" Oleksiy Dovgiy, "Radical party" Andrey Lozovoy, Deputy from BPP Borislav Rosenblatt, MP from NF Maxim Polyakov.
The sixth performance of the GPU, the people's Deputy from "opposition bloc" Mikhail Dobkin, has not yet been considered in the committees.
Comments
comments