EBRD doubled the amount of compensation the amount of credits for housing insulation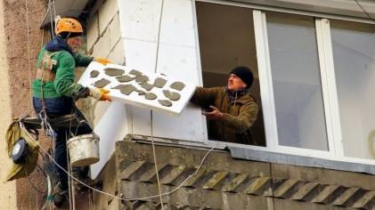 The European Bank for reconstruction and development in two times increased the size of grants for the modernization and insulation of housing for the IQ energy. Compensation for the population will be 35% instead of 15-20%, and for condominiums – 40% instead of 25-30%.
At the same time, the maximum grant amount that is available one natural persons remained unchanged and amounts to 3 thousand Euro.
"In its decision to increase the grant amount to 35% of the total amount of the loan – we strive not only to help the people of Ukraine to insulate and upgrade their housing, but, much more important in the long run, consciously move to rational energy consumption through the use of modern energy efficient technologies," said EBRD Director in Ukraine Sevki acuner.
Compensation will be paid within three to five weeks after the confirmation of electronic application. It will be possible to obtain not only basic equipment, but also on the related products, as well as the installation costs if they were purchased on credit from banks-partners of the program, along with the main equipment. Cooperation agreements for the IQ energy signed with "Raiffeisen Bank Aval", "UkrSibbank" and "OTP Bank".
The total amount of compensation for housing insulation programme energy IQ is 15 million euros.
Recall, the EBRD is the largest financial investor in Ukraine. Since its inception in the country in 1993, the Bank has committed to providing nearly 12 billion euros in 369 projects.
Comments
comments