Klimkin explained why Ukraine is not suitable the introduction of a visa regime with Russia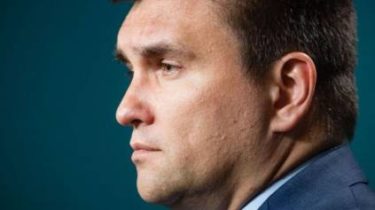 The usual introduction by Ukraine of a visa regime with Russia do not contribute to the effective control of entry and exit of the Russians. This opinion was voiced by foreign Minister Pavlo Klimkin.
"If we just introduce a visa, it will not meet our goal. First, we will not be able to effectively control the date of entry how to enter are citizens of the Russian Federation, how it will be done", – UNIAN cites a quote from the head of the foreign Ministry.
He added that part of the biometric data is public and part is closed, so the Ukrainian side will not receive any of them.
According to klimkina, in the case of introduction of a visa regime with Russia, Moscow would have gone to the mirror answer.
See also:
Omeljan called for a visa regime with Russia and the "black list" on the border
"They'll make us provocation and impose the same visa regime, trying to compress our citizens-Ukrainians who reside, for example, on the territory of the occupied Crimea. How will they do it? Because Russia will release them on the territory controlled by Ukrainian authorities, only with valid visas. And of course, such provocations can be a lot," – said Klimkin.
He added that the introduction of biometric control at the Ukrainian border for foreigners will occur in several stages.
"I stress, once we're technically ready, but we are very well moving in this direction, with the registry of biometric data, this solution will be implemented. But this is only the first element, because what I presented today at a meeting of Parliament's national security and defense, this is an integrated control system for entry/exit, and movement within the country," – said the foreign Minister.
According to him, the next stages also include a control, but it is clearly aimed in the direction of threats that exist – "it is the Russian Federation."
"This is, of course, control of travel, there will be a procedure of prior notification and will monitor movement in Ukraine", – he added.
As previously reported, Ukraine will introduce biometric controls for citizens of other countries who cross the Ukrainian border. The decision was taken at a meeting of the national security Council, said the President of Ukraine Petro Poroshenko.
"We should remove all biometric data, including fingerprints and a digital photograph. This will greatly enhance the possibilities to combat terrorism," he said.
NSDC Secretary Oleksandr Turchynov said that the decision will primarily affect citizens of the Russian Federation.
Videobrain will introduce biometric controls for foreigners
TSN. 19:30
Yesterday, 20:07
Facebook

VKontakte

Google+

1

Twitter
Comments
comments