Captured by militants of the Donetsk mines massively delayed wages to miners – Tymchuk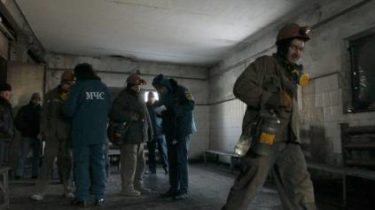 In the occupied territories in Donetsk region is growing discontent among minerswho delay payments.
Wrote about this on his page in Facebook the people's Deputy, head of the Center Voyenno-political researches, the head of group "Information resistance" Dmitry Tymchuk.
"Mine "ilovaisky" (n. p. Khartsyzsk, Director Didur V. S., 500 employees) is included in SE "shahterskantratsit" (n of the item Shakhtersk). In 2014-2015 the mine fire was damaged a transformer substation, with the result that the company was a long time without power supply, and, as a consequence, there was a partial flooding of the workings," – he said, adding that mine management was not able to carry out repairs to restore the transformer substation.
According to Timchuk, at the end of 2015, the substation was repaired, and starting in 2016, the mine resumed extraction of coal grade "A" 40-50% of its capacity.
See also:
In "LNR" fighters replenish their units of miners, forcing them to go to the military
"Debt at the current wage is 2 months, the average salary is at the level of 10-12 thousand rubles a result of the sharp decline in the salaries of the staff deteriorating social mood and triggers the Union's demands for higher wages at the rate of ½ of the ruble against the hryvnia. At the same time, for fear of arrest by the security forces of the "DNR" (in particular, the staff of "MGB DNR" in the company intimidated those who expressed dissatisfaction, forced labor in the front line), the workers Union any measures to protect the interests of employees don't realize", – said the MP.
Besides, as Tymchuk told, in the state militia miner at the mine "miner-Deep", which is part of the SE "torezantratsit" and daily produces about 1,100 tonnes of coal of "A", there are a number of problematic issues of the production process, in particular, no timber, spare parts for maintenance of equipment in the Stopes.
"On mine in the last 3 years there is a periodic reduction of employees (in 2014, the mine employed 3.5 thousand people, and now 2.5 million – approx.). Arrears of wages observed in 2014, but his current salary is paid 2 times a month without delay. Every month 10% of workers are on forced leave and get a stable pay 2/3 of the salary rate. The average wage at the mine is 15-17 thousand rubles.", – he stressed, adding that the sale of coal is for energy companies of Russia and "DNR".
Operational data of group "Information Resistance". Russian occupation troops in the Donbass attacks…
Published by Dmitry Tymchuk on July 11, 2017
We will remind, earlier intelligence told about the economic crisis in ARDLA. The miners demand from the "DNR" salary increase to the level of Ukrainian miners.
Comments
comments