Allowed to attract Dovgy responsible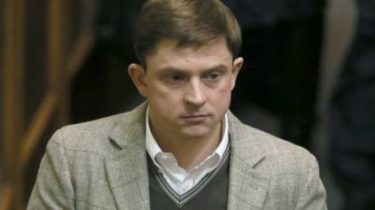 The Verkhovna Rada gave its consent to criminal prosecution of people's Deputy group "people's Will" Oles Dovgy.
For a decision voted 251 MP.
Thus the MPs actually supported the removal of the parliamentary immunity of long.
"The regulation is violated, the law had not crossed… I appeal to you to support it is worthless from a legal point of view the submission in order to give me the opportunity to fulfill one of my campaign promises, and once and for all put an end to all the many absurd allegations that we hear for me and my family over the past years", – said the Deputy himself about the accusations against him immediately before the commencement of voting.
See also:
The building permit reserve. What MP Dovgy could be imprisoned for eight years
Recall that Dovgy is accused of land fraud in the capital over the working time Secretary the city Council. In the case where 45 hectares of land in reserved Zhukov island, only the nominal value of which amounts to 82 million. Lutsenko at the meeting of the Committee showed the document dated October 2007 with the signature of long.
He is accused of transferring a fictitious office ten pieces of protected land. The then Deputy of the city Council Natalia Novak says that while in the hall was not even a quorum, for him specifically changed the agenda, I confused the numbers of the decisions that the deputies did not understand, for what vote, and the margins have been circulating rumors about the $ 2 million allocated to each of the faction that supported the illegal allocation of land.
The MP claims that last link in the decision-making of Council is the mayor – then it was Leonid Chernovetsky. Therefore, they say, must ask him.
After hot discussions, the Committee decided that in view of the Prosecutor General on the MP a lot of flaws, but to send it for consideration to the Parliament.
Videolarda Oles Dovgy has asked BP to remove his parliamentary immunity
TSN. 12:00
4 Jul, 12:33
Facebook

VKontakte

Google+

Twitter
Comments
comments