Industry experts called the Minister Omelyana culprit of the scandal with Ryanair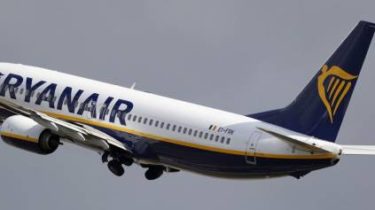 The scandal surrounding lowcost Irish Ryanair has reached the level of the Cabinet of Ministers of Ukraine. Prime Minister Vladimir Groisman said that is configured to return the parties to the conflict to negotiate, says the story TSN.19:30.
"I would like to have a full audit of negotiation, and we agreed that the Ministry of infrastructure, the airport "Borispol", in conjunction with the offices of development investments will be engaged in the recovery process, audit, personalnogo process", – stressed the head of government. In this case, Groisman stressed that the conditions of doing business should be the same for all market participants.
Videoexpert said that the behavior of Ryanair aimed at improving rates and increasing privileges
TSN. 19:30
Yesterday, 20:32
Facebook

VKontakte

Google+

Twitter
Some aviation experts say the move by Ryanair is a game to increase interest rates. Irish and informed during the talks loudly knocked the door, then to come back on more favorable terms. So was the case in Poland and the Baltic States. In Ukraine, the negotiations with the airline last 5 years, this year in March, they intensified. Then the Minister of infrastructure Vladimir Omelian met with executives of the airline and signed a secret Memorandum promised the Irish privileges at the airports in Lviv and Kyiv.
Lions agreed to fulfill the promises of the Minister are private "Zhulyany" immediately refused. Boryspil hesitated, but in the end the Director said that can not meet the requirements Ryanair – free navigation, free registration desks in the terminals, free space for your home office and office for the sale of tickets and rights to build a hotel at the airport. The airport management has considered that under these conditions the company will not receive two billion hryvnias of income. After that, the Irish announced they were leaving Ukraine.
See also:
Negotiations between Ryanair and "Boryspil" were doomed – a statement of the airport
Experts insist that strategic mistakes from the beginning done by the profile Ministry. "All that the Minister entered into negotiations – it was a mistake. He offered the best that we have, for next to nothing," – said the Lanetsky. "The Minister had no right to sign a Memorandum of understanding, had no right to promise exclusive terms that are not available to all carriers," – said Bodnar.
Now the contract with Ryanair by the airport of the city of Lviv signed. Legally it has nothing to do with the negotiations with the "Borispol", so the Irish must carry it out. It is possible that after signing they made marketing studies and realized that potential passengers in Ukraine is not enough to be profitable.
The TSN reporter Dmitry Svyatenko
Comments
comments