Will be with Biletsky. The MP explained his withdrawal from the faction of the BPP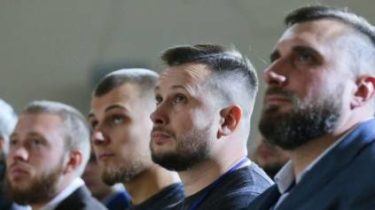 The people's Deputy Oleg Petrenko explained his way out of the BPP for those that want to be with the party "national corps" led by Andriy Biletsky.
He said this in comments to the TV channel "112 Ukraine".
"I am one of its leaders, so I made my choice – I will be with Andrei Biletsky; other deputies-nationalists – we have a Memorandum with the party "Freedom" – he stressed.
According to Petrenko, 2014, when he was in Parliament from the faction of the BPP, won elections in constituency No. 194, "Azov" just fought, and now is the party of the "national body."
Besides, he assured that he did in the faction after the proposal of volunteer Cherkasy region Vyacheslav Sichko.
"I immediately agreed, they have elections, we have war," – said Petrenko.
Recall that Petrenko is a representative political force "national body" that July 11 was among the activists who demanded to lift the immunity of six MPs and to bring them to justice and to allow the arrest. As you know, the people's Deputy from "BPP" Boryslav Rozenblat, together with his colleague Maxim Polyakov appears in the "amber". Glad yesterday said the removal of immunity of these MPs.

Comments
comments