Deputies ask permission to leave for lunch and television. People in the rain holding a blockade Happy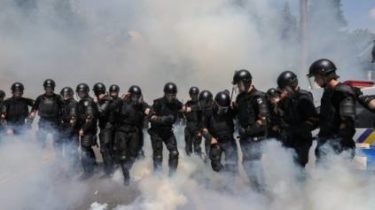 This morning, activists of different political forces and public organizations blocked six inputs and outputs of the Verkhovna Rada of Ukraine.
See also:
The Barna MP pelted with eggs.
They need to start the process of abolition of parliamentary immunity, which is necessary to register the relevant changes to the Constitution.
After Parliament adjourned, some MPs decided to leave the room Happy. They claim that the rush to the television or want to eat. But activists hold the door and do not let the parliamentarians.
Today, in particular, the Council needs to vote on lifting immunity of MP from the Opposition bloc Mikhail Dobkin. The former mayor of Kharkov is suspected of involvement in fraud with the earth. The Prosecutor General's office sees his actions signs of deliberate arrangement by group of persons for abuse of official position and the promotion of fraud in order to seize 78 hectares of land in Kharkov for more than 220 million UAH.
Comments
comments