Lyashko and Sobolev staged a brawl at the podium. There was a video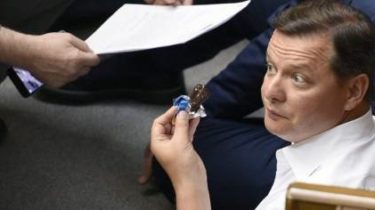 MPs Yegor Sobolev and Oleg Lyashko staged a brawl at the podium of the Verkhovna Rada of Ukraine.
The reason is not agreed positions regarding the theme of the speech. When Lyashko came out to speak, Sobolev asked him to stop the speech. However, the leader of the radicals refused to do and continued to speak. On the podium, a fight broke out between the representatives of the faction "Samopomich" and "Radical party".
See also:
Rada approved a new law on the constitutional court of Ukraine
However, several deputies defended Oleg Lyashko.
We will remind, 19 Feb 2017 Yegor Sobolev was beaten during protests against the trade with the uncontrolled territories of Donbass. Then activists tried to establish tents near the presidential Administration, but this was prevented by militiamen.
Comments
comments