"Bear, Bear, where your smile". As the Network has responded to the resolution Happy to arrest Dobkin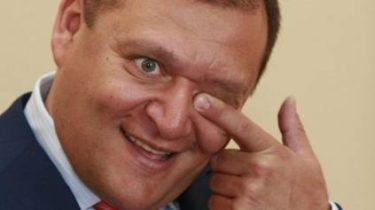 Social media users have reacted to the decision of the Verkhovna Rada on bringing to criminal liability and arrest of the MP from the Opposition bloc Mikhail Dobkin.
The people's Deputy called the decision a "provocation" and promised that he would come to doprev GPU.
See also:
"Make no mistake". Dobkin assured that he come in for questioning in the GPU
The Network news was perceived with a sense of humor. Users began to remember his videos Dobkin-hit about the "boring face" and joked that disappeared with him smile. Funny nick joked that "opublikovan" knowingly collect "alarming suitcase".
briefly about the main #told #GPU #lie pic.twitter.com/akwiw0BdPM
— Sloboda Svova (@SlobodaSvova) July 13, 2017
and Bros don't look so boring as a mouse pic.twitter.com/f7hXkDCpW7
— Marina Kolesnichenko (@m_kolesnichenko) July 13, 2017
We will remind, on July 12 the procedural Committee of the Verkhovna Rada considered the idea of giving consent to the bringing Dobkin to justice. The Committee acknowledged its lawful and motivated and sent to Parliament. In turn, the idea of the detention and arrest sent to the Parliament.
Dobkin said that in Parliament it will ask to remove from it inviolability and to vote "for" to "the investigators had no reason to say that it can't carry out investigative actions".
On 29 June the attorney General Lutsenko made a submission to the Parliament on the granting of consent to the criminal prosecution, detention and arrest Dobkin. The GPU in the actions of nupdep saw the signs of deliberate arrangement by group of persons for abuse of official position and the promotion of fraud in order to seize 78 hectares of land Kharkiv regulatory cost of more than 220 million UAH.
Dobkin has assured that the case against him is a "personal vendetta" Lutsenko, whom he had warm relations under President Viktor Yushchenko.
Comments
comments