Groisman accused Semenchenko in the work for the benefit of Russia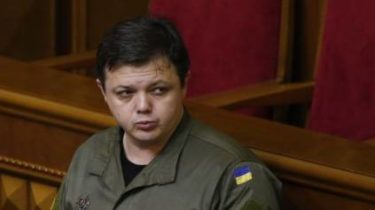 Prime Minister Vladimir Groisman believes that the people's Deputy from "Samopomich" semen Semenchenko works for the benefit of Russia and it will receive a reward.
He said this during an hour of questions to government in Parliament, reports the UNIAN.
In particular, Semenchenko asked the head of the Cabinet, when the banned the import of Russian coal to Ukraine.
In response Groisman noted that in order to win time and to diversify sources of supply, Ukraine imported coal from the occupied territories. According to him, 100% of enterprises in the occupied territories pay taxes to the Ukrainian budget.
See also:
In Russia officially recognized the delivery of coal from the occupied Donbass
He stressed that "the organizers of the blockade are directly related to the intelligence services of the Russian Federation" and they are guilty, that all the mines and enterprises that pay taxes in Ukraine, now working on the budget of the aggressor.
"And it is your "merit" personal", – said Groisman, speaking to Semenchenko.
According to him, because of these actions, Ukraine has lost more than 1% of GDP.
See also:
Groisman said about the complete failure of the Ukrainian state-owned companies from purchasing coal from Russia
"So I think you have something to think about, and perhaps the country-the enemy will present or have presented to the state award," said the Prime Minister.
Recall Groysman called the loss of Ukraine's economy after coal blockade in the Donbass. For the three months blocking the occupied Donbass and therefore the termination of deliveries of coal Ukraine has lost 1% of GDP.
"And we will find a solution for continued growth", – said Groisman.
Videoke, a blockade of trade with ORDO
Pennies
March 21, 10:50
Facebook

2

VKontakte

1

Google+

1

Twitter
Comments
comments