Holodnitsky spoke about the prospects of investigations deprived the immunity of MPs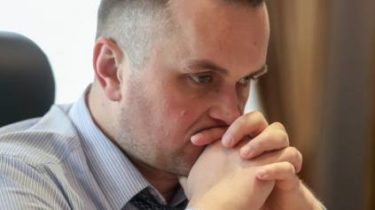 Anti-corruption prosecutors Specialized prosecutors and investigators of the National anticorruption Bureau of Ukraine want a quick and qualitative completion of pre-trial investigation in the processes of people's deputies deprived of immunity.
This was announced on his page in Facebook the head of the SAP Nazar Golodnitsky.
"MP Dovgy. Joint investigation and prosecution of a group of SAP-NABOO-GPU immediately after consent began to carry out necessary investigative actions in respect of the said people's Deputy. If there is sufficient evidence to be declared suspicious and compiled the indictment. Next will be a trial where the MP will have the opportunity to defend himself, like all citizens of Ukraine", – he said.
Videobr, removed parliamentary immunity of 3 deputies
TSN. Wounds
12 Jul, 08:29
Facebook

3

VKontakte

Google+

1

Twitter
Also, the head of SAP assured that the people's Deputy Maxim Polyakov and Borislav Rosenblatt is already declared suspicion for corruption.
"Today (July 14 – approx.ed.) they are already summoned for interrogation to NABOO. After the investigation will gather all the evidence – will draft an indictment and it will be directed to court for consideration in essence" – he said, noting that despite the existence of risk hurdle pre-trial investigation, as well as concealment from justice of people's deputies, law enforcement officers can not apply for their detention and arrest, because the Council did not give consent to it.
At the same time, according to Golodnitsky, the proceedings about the possible illegal enrichment of people's Deputy of Ukraine from "popular front" Eugene Dade stalled.
"We can't conduct investigative actions by the Deputy. At the same time conducted additional investigative steps with all persons involved in the production but, in fact, the people's Deputy", – he added.
This week the whole country had been an example of "solidarity and mutual assistance." I only wish that this solidarity was…
Published by Nazar Holodnenkim July 14, 2017
We will remind, on Tuesday, July 11, the Verkhovna Rada at its evening session considered the submission of the Prosecutor General of Ukraine regarding the removal of immunity of five deputies , Yevgeny Deydey, Oles Dovgy, Andrey Lozovoy, Maxim Polyakov and Borislav Rosenblatt. By results of voting integrity was removed from Dovgy, Polyakov and Rosenblatt. However, the deputies did not support the removal of immunity from the Dade and Lozovoy.
Comments
comments