Lutsenko and Holodnitsky arrived in Rada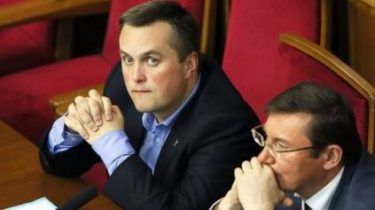 The Prosecutor General of Ukraine Yuriy Lutsenko and the head of the Specialized anti-corruption prosecutors Nazar Golodnitsky came to the Parliament building to participate in voting for deprivation of the Deputy from "Opposition bloc" Mikhail Dobkin immunity.
This was announced on his page on Facebook press Secretary of the Prosecutor General of Ukraine Larisa Sargan.
"Prosecutor General Yury Lutsenko is already in Parliament", – she assured.
According to garfish, together with the head of the GPU arrived and head of SAP Nazar Golodnitsky.
Lutsenko and Holodnitsky arrived in Parliament. Missed them)) pic.twitter.com/6uUiUjajWz
— NVQ/Shabunin (@Shabunin) July 13, 2017
We will remind, Lutsenko, the Prosecutor General made a submission to the Parliament for consent to the criminal prosecution, detention and arrest Dobkin. The GPU in the actions of the Deputy saw signs of deliberate arrangement by group of persons for abuse of official position and the promotion of fraud in order to seize 78 hectares of land Kharkiv regulatory cost of more than 220 million UAH.
Dobkin has assured that the case against him is a "personal vendetta" Lutsenko, whom he had warm relations under President Viktor Yushchenko. The Deputy is sure that the privacy of his Rob.
Comments
comments